Classic Car Shows and Events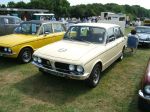 Welcome to Classic-CarShows.com, the easiest way of finding the classic car event for you.
Simply select the month you're interested in, to compare the basics - location, date, and facilities. Then checkout the details, and, if required, calculate a route to the show. Try it, it's easy!
25th April 2013
Wigton Motor Club is embracing National Motor Sport Week by offering three free places to crews who have not previously taken part in rallies
Wigton Motor Club is embracing National Motor Sport Week by offering free places to three crews who have not previously taken part in rallies. They can take part in either the classic rally or the targa event for modern two wheel drive cars.
The 'Lake District Classic Rally' will be based on the popular venue of the Penrith Truckstop close to Junction 40 of the M6 in Cumbria. Within easy reach from all points of the compass this is easily a one day event for most potential entrants but for those wishing to stay overnight competitive accommodation rates are available. The event will incorporate twenty spacious, open tests involving no reversing or Mensa puzzles.
The route is by preplot map references with directions of approach and departure. Route instructions will be available at signing on and there will be at least an hour available to put it on the maps.
The route will be compact and limited to 70 road miles allowing for results and prize giving to be over by 1800 hours. This event is organised by current competitors who know what clubmen want from rallies. The entry fee is £95 with morning coffee, light lunch and evening meal included and competition licences are not required.
Regulations are available from the Wigton Motor Club at www.wigtonmc.co.uk or from the
Entries Secretary – Ron Palmer at ronpalmer777@hotmail.com
Info-box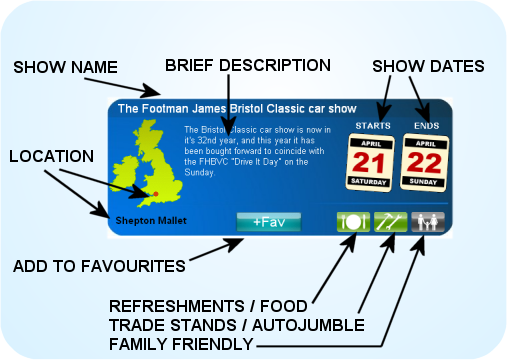 The new "Info-Box" layout us designed to clearly display in an "at-a-glance" format all the information you need. So much easier then reading through lots of text or poorly formatted data!
It quickly answers the "What? When? Where?" to help you decide if an event might be of interest to you. The Location and day(s) and date(s) of the event are instantly apparent, as are the main features of the facilities available.
Clicking the event name takes you to the full details for that event, also providing a location map and a route planner, to help you plan your day.
In addition, the new "+Fav" button allows you to add an event to your personal list of "favourites"
Favourites
"Favourites" allows you to store events of interest to you, so you can refer to them later. This makes it easy to generate a personal shortlist of interesting events!
To add an event to your "Favourites", just click the "+Fav" button on the info-box or event listing.
Once an item is in your "Favourites" list, a new menu item "Favourites" will appear at the top right of the page.
This menu lists your favourites, and clicking on an item takes you to the details page for that event. It also allows you to delete an item by clicking the "cross" symbol.
Clicking on the "Favourites" link will take you to a "My Favourites" page, listing all your saved favourites on one handy page!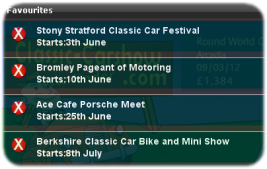 So that you know when looking through the event listings that an event is already in your favourites, the "+Fav" button will change colour, and become the "-Fav" button. This can also be used to delete the event from your favourites.
Note: Favourites are stored in Cookies on your computer, and can store 20+ events.
Using cookies on your computer to store the information means that you do not have to register, and that they are instantly available.
As they are stored on the computer you are using, they will not be accessible on other computers that you might use. Also note that they will not work if cookies (or Javascript) are disabled.
Calendar
The Calendar appears at the top of each months event listings, and allows you instantly to select days of interest during the month. No longer do you have to look down the whole list to see what´s on when you´ve got days free!
Car Data Select
Recent Blog Posts
Wigton Motor Club is embracing National Motor Sport Week by offering three free places to crews who have not previously taken part in rallies
On the 27th & 28th April, a Vintage Festival at York Racecourse, celebrating Cars, Vintage Music, Vintage Fashion & Vintage Life in the1930's-1960's
BBC Filming a production of 'The Great Train Robbery' requires classic cars of the Era.
Show Images
Next months events